UCF researchers, alumna team up to create long-lasting disinfectants to kill viruses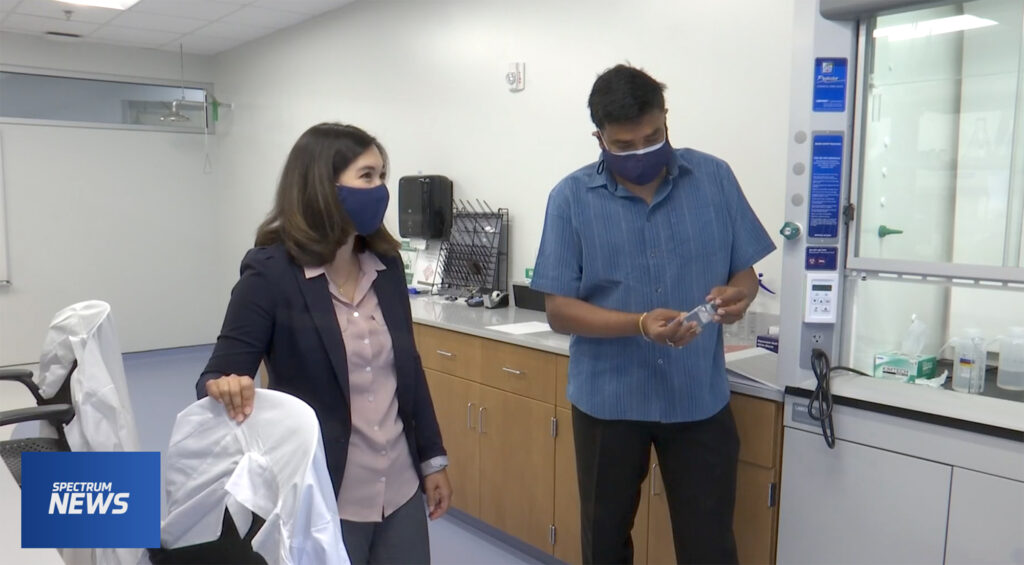 ORANGE COUNTY, Fla. — A UCF alumna and two UCF researchers have created a disinfectant that can continuously kill viruses on a surface for up to seven days.
---
What You Need To Know
UCF team develops disinfectant that kills viruses on surfaces
The disinfectant, called Nanorad, works for up to seven days
The clear liquid is a highly concentrated solution of nanoparticles
The UCF researchers, alumna expect to receive a patent in October
---
"And really, the magic is in this," said Christina Drake, principal investigator and founder of Kismet Technologies, as she held up a small jar of a clear liquid that has been her main focus for the past year.
"It's very potent," Drake said. "So even though this looks like water, this is actually a highly concentrated solution of the nanoparticles that we make that actually do the virus- and bacteria-killing. But because the nanoparticles are so small, you aren't able to optically see them."
Working with UCF nanoscience expert Sudipta Seal, their team was able to create a solution that disinfects surfaces quickly and effectively.
"We can kill lots of different viruses on surfaces," Drake said. "We disinfect within 15 minutes. We eradicate within two hours.
"The idea for such a fast-acting product came up soon after the COVID-19 pandemic began, Drake explained.
"But I went to the grocery store, and I did see someone spray disinfectant on the door when I was trying to get milk out of the refrigerator, and he immediately wiped it off," she said. "And I at least knew enough about disinfectants to know that when he did that, it didn't disinfect the door handle because usually, you have to leave a disinfectant on there for a few minutes.
"But I think because we were all on lockdown and everyone's paranoid about viruses at that point, I started actually reading up on why it actually took so long."
While the idea itself came quickly, the research and work to get to the point of creating the disinfectant have taken years.
"My group has been working on nanotechnology for almost 20 years now, and we have developed a lot of materials," said Seal, UCF professor of bacterial science and engineering. "And we started thinking that if we could modify them or engineer them, make them eco-friendly, can you really look into killing pathogens?"
They found not only does their nanoparticle-engineered disinfectant, named Nanorad, work quickly, but even when it's dry, it can still work to kill viruses and bacteria for up to seven days after.
"It's just like a happy finding that has huge implications in terms of stopping the spread of viruses and bacteria for infections from surfaces," Drake said.
To test it out, they brought in Griff Parks, a virologist with UCF.
This disinfectant is unusually versatile, Parks said.
"Every virus we've tested so far has been killed by this disinfectant, which is remarkable," said Parks, director of the Burnett School of Biomedical Sciences at UCF College of Medicine. "It has those gentle, safe, eco-friendly properties to it. It's remarkable that it can kill such a diverse range of viruses."
While many commercial disinfectants have harsh chemicals, Drake said Nanorad is non-toxic and eco-friendly, making it much safer and more appealing for use in places like hospitals.
"I have two small children, and I would not want to put a product out into the marketplace that I wouldn't feel comfortable around my children," Drake said.
Before it hits the market, lots of' testing is needed.
For hospitals, that means making sure Nanorad works with electrostatic sprayers.
"But what we do, we're able to create a very, very fine mist that then applies the product," Drake said, demonstrating how the electrostatic sprayer would work, using water in the lab instead of the disinfectant.  "We're able to see, 'OK, how good of a film did we make? Does it resist wear, and does it still retain the properties we need it to retain?' "
Already in talks with two hospital systems to test their disinfectant in their facilities, Drake and the team said they believe Nanorad could be a game-changer when it comes to cleaning. And they're excited to see their disinfectant play a hand in helping kill future viruses so more people can be protected from getting sick.
"Those nanoparticles, they're little, but they're mighty," Drake said. ​
The UCF Nanorad team has already published a paper about its findings regarding nanoparticle-engineered disinfectant and expects to get their patent for it sometime in October. After getting approval from the Environmental Protection Agency sometime in the next two years, the team estimates the product can then be licensed and sold across the country.