One of the biggest challenges posed by the Pandemic to mankind is the loss of livelihoods, further widening of the gender inequalities, and major reliance on government networks for health-related awareness. Parisodhana Technologies, a company incorporated in India by two University of Central Florida Alumni, Dr. Satyanarayana VN T Kuchibhatla and Dr. Ajay Karakoti, responded to this challenge by creating a distributed manufacturing model through various Self-help groups (SHGs) for making safe, tested, reusable masks. Parisodhana team repurposed packaging material used for their instant heating products meant to prevent hypothermia in newborn children (https://parisodhana.org/NeoWarm/ ) and created a filtration media with performance equivalent to N-95 masks. This filtration media is integrated with 100% cotton sourced from weavers in the Telangana region of India, by female artisans from various states trained in stitching to create SHG-95® masks. Parisodhana team ensured that a pre-set quality protocol is followed by all the artisans. While most of the manufacturers in the market pay INR 2 – 5/ mask, Parisodhana team decided to provide INR 10 per mask to female artisans. By making 300 masks per month, each artisan will be able to earn a reasonable and consistent income. Along with this work, these artisans will be trained in the significance of maintaining hygiene, menstrual, maternal, newborn health, positive long-term benefits of vaccination, and the significance of educating a girl child. S It is envisioned that the artisans will evolve as community health ambassadors to respond to future health emergencies to support the families within their community.
Started as a small project by the Parisodhana team, as a call to action in response to COVID, received a major boost through the mentorship of Prof. Chintan Vaishnav (Tata Center, MIT, USA), Dr. Anoop Rao (Stanford University School of Medicine, USA), Mr. Naveen Jha (Former CEO of Deshpande Foundation) and Dr. Anand Sivaraman (Remidio Innovative Solutions, India). This lead to the evolution of the "Billion Social" initiative, with a vision to empower female artisans through technological innovations as one of the primary action points to positively impact a billion lives in the near future. Organizations such as SEWA Federation, Tata Power Community Development Trust, Selco Foundation, Abhihara, SRDS, and some other female entrepreneurs joined the initiative resulting in the first project "Billion Social Masks" under this initiative.
Recognizing the impact this initiative will have on the lives of female artisans and overall society at large, Grand Challenges Canada (funded by the government of Canada) provided a CAD 160k grant to Parisodhana which is being matched by the IKP Knowledge Park and BIRAC (DBT, Govt. of India) to manufacture and sell One Million Masks and empower female artisans.
Parisodhana is currently seeking partners to enable sales and institutional buyers for the SHG-95® masks from across the globe to support their efforts to empower women.  (SHG95@parisodhana.org)
Dr. Satyanarayana  V N T Kuchibhatla, Graduated from University of Central Florida in 2008 from Prof. Sudipta Seal's lab, worked at Pacific Northwest National Laboratories (USA) before returning to his home country – India. He is currently the managing director of Parisodhana Technologies.  (kuchibhatlas@parisodhana.org )
Dr. Ajay S Karakoti, Graduated from University of Central Florida in 2010 from Prof. Sudipta Seal's Lab, also worked at Pacific Northwest National Laboratories (USA) before returning to India. Dr. Karakoti works closely with Dr. Kuchibhatla in building Parisodhana. He is currently an associate professor at The University of New Castle.  (karakotia@parisodhana.org)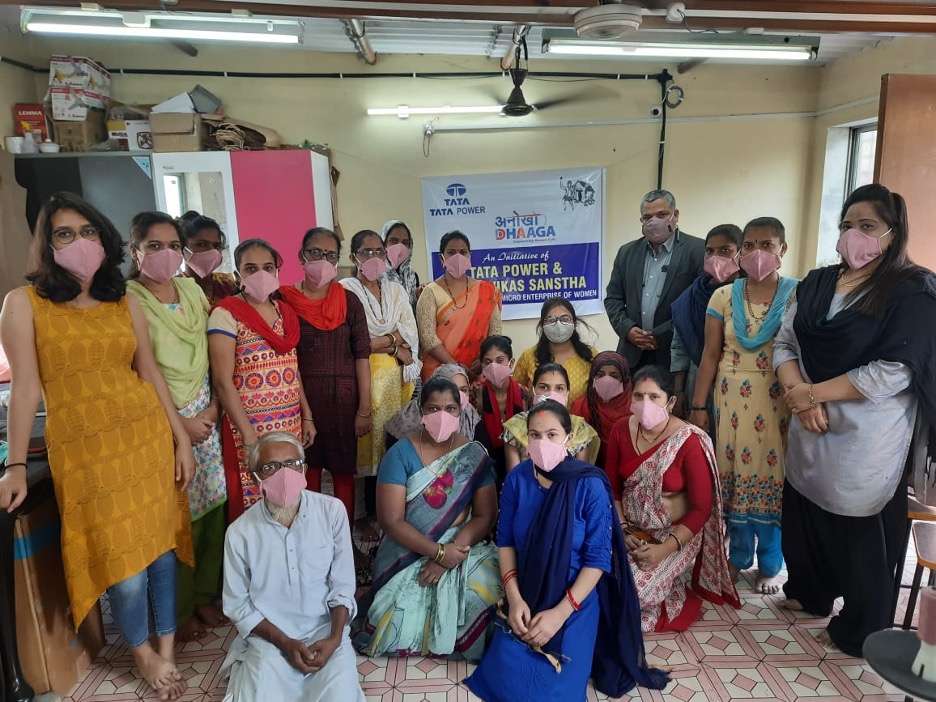 A picture taken at the Anokha Dhaaga Center Supported by Tata Power Community Development Trust located in Mumbai, Maharashtra India during Dr. Kuchibhatla's visit on February 02, 2021