Five students affiliated with the Department of Materials Science and Engineering have been selected to receive Summer Undergraduate Research Fellowships from UCF.
Avani Shandilya, Erik Marcelo, Ishan Patel, Ryan Wood and Erin Watson will each spend the summer working a research project that they will later present at the UCF Summer Undergraduate Research Poster Showcase. Each SURF Fellow receives a $2,000 academic scholarship for their summer courses, as well as access to exclusive professional development workshops.
Shandilya, a computer science major, will work under the guidance of MSE Professor and Chair Sudipta Seal as well as doctoral student Udit Kumar. She will create and test the effectiveness of materials that could be used to break down PFAS — perfluoroalkyl substances that are harmful to the environment. Shandilya has already worked on a similar project through the UCF L.E.A.R.N. program, and looks forward to continuing her research.
"I feel that this will help me further understand how research works and the process behind it," Shandilya said. "I also do feel a little bit lucky in a way because I thought I would not get to continue on with a similar research project, but I am glad that I have the means to do this research."
MSE major Erik Marcelo and biomedical sciences major Ishaan Patel will also work in Seal's lab. Their projects will focus on nanocoatings and nanotherapeutics for diabetics.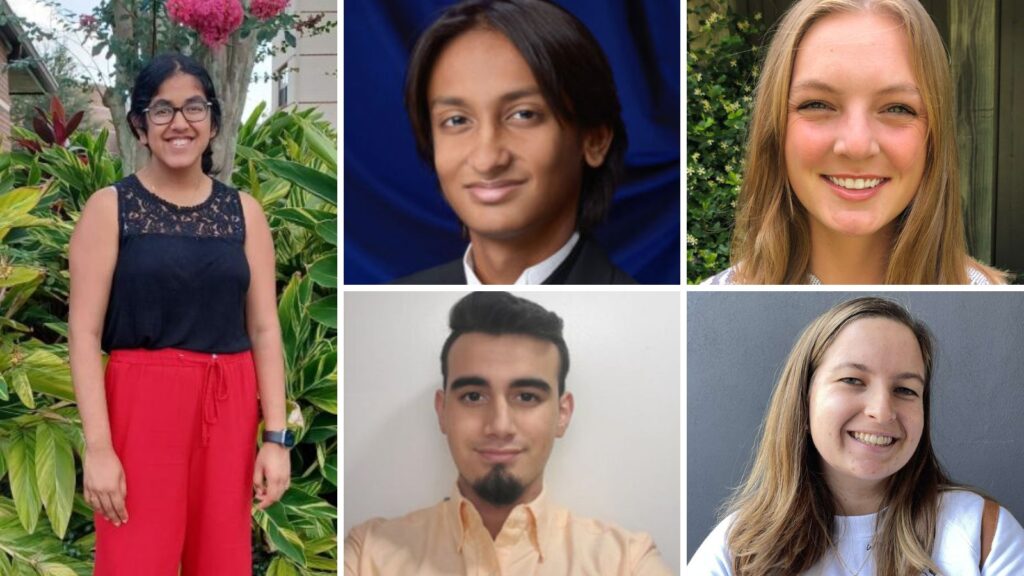 Advancing Medical Technology
As the daughter of a doctor, Wood is using her passion for the medical field to fuel her research this summer. The materials science and engineering student will work with Assistant Professor Kausik Mukhopadhyay to develop antifouling coatings that can prevent infection from medical devices. She will develop two types of coatings: one that repels water and one that mixes with water. She'll also study their properties to determine if type of coating is better than the other.
Wood said that she is excited about this opportunity to further her experience with undergraduate research.
"When I was first introduced to undergraduate research, I was intrigued by the projects being conducted; but the real peak in interest came when I saw how many applications each project could have," she said. "The versatility of each project really won me over as there could be two students from completely different departments working on the same project."
Wood also received a $1,500 student research grant from the UCF Office of Undergraduate Research to conduct research on durable coatings for dust mitigation.
Creating Alternative Plastic Films
Watson, a materials science and engineering major, will work with Assistant Professor Kaitlyn Crawford to make alternative plastic films. She will conduct reproducibility trials with a centrifugal force spinner, a novel instrument made by the researchers in Crawford's lab. The device creates polymer fibers by spinning fibers out of a chamber at very high speeds. Watson will use sustainable sourced polymers with the spinner to determine a safe and effective way to make alternative plastic films.
Watson is grateful for the opportunity to be a SURF fellow. She looks forward to learning about future opportunities and to conducting research that can make an impact.
"I wanted to do undergraduate research because this has been my lifelong dream," Watson said. "I've always wanted to be a scientist, so by working in a research lab, I get to work with my hands and make a difference in the world, too."
Written by Marisa Ramiccio