Materials impacts all technologies and applications
The field of materials science and engineering encompasses concepts in many diverse fields ranging from chemistry, physics, and optics to mechanical, electrical, and chemical engineering. Rapid advances in technology have dramatically increased the importance of materials science and engineering to society.
Why study materials science and engineering?
Materials science and engineering is the study of the structure, processing, properties, and relationships of engineering materials. Considered by some to be the marriage of physics and metallurgy, modern MSE encompasses a broad range of materials, from traditional metallurgy to biological materials, polymers, ceramics, semiconductors, composites, and optical and magnetic materials, as well as numerous nanotechnology materials. The study of materials science allows students considerable freedom to explore the depth of their understanding of such materials while being simultaneously engaged in real-world research.
What are the career opportunities in materials science and engineering?
MSE graduates can be found employed in almost all fields of human endeavor. Most obviously, in fields where someone uses the material to make something, such as the automotive, aerospace, and microelectronics industries or makes material for use by others, such as the plastics and metals industries. Additionally, MSE graduates can be found in knowledge-based industries, such as archeology and education.
What is a typical graduate curriculum in materials science and engineering?
The core curriculum for MSE graduate students consists of four courses:
EMA 5106: Metallurgical Thermodynamics
EMA 5317: Materials Kinetics
EMA 6126: Physical Metallurgy
EMA 6626: Mechanical Behavior of Materials
In addition, students without a prior MSE background should take EMA 5104: Intermediate Structure and Properties of Materials. For master's level students, the core courses are required, while for doctoral-level students, they are not required but highly recommended because they serve as the basis for the written doctoral qualifying examination.
Beyond the core courses above, master's level and doctoral level students are both relatively free to take courses in materials science and engineering or in related fields that satisfy their personal and research goals. Students are required to complete a Program of Study form, which lists the courses needed to complete the master's degree or doctoral degree, after their first nine credit hours in the program. The Program of Study requires approval by the student's advisor and by the MSE program coordinator and is usually heavily customized to meet the interests of the student.
Why should I choose UCF for graduate studies in materials science and engineering?
The graduate program in materials science and engineering at UCF has distinguished an outstanding selection of courses taught by excellent instructors who offer students state-of-the-art research opportunities. The result is education through research.
Almost all students in the graduate MSE programs are financially supported by graduate fellowships or graduate research assistantships that require research tasks with clear objectives and a scientific foundation, significant interactions with scientists and engineers from outside UCF who fund research programs, and the opportunity to present and be published by international organizations. In addition to challenging coursework, the "education through research" approach provides graduate students with scientific competency and polished professionalism.
Further, due to the interdisciplinary nature of MSE, students are encouraged to learn and train across multiple disciplines through the several innovative curriculum and interdisciplinary research facilities and research centers at UCF, including the Advanced Materials Processing and Analysis Center, the NanoScience Technology Center, the Florida Solar Energy Center and the Center for Research and Education in Optics and Lasers. This approach provides a distinctive advantage to UCF graduates in that they not only understand materials-specific challenges but also have an overall understanding of engineered systems for many applications.
Admission Requirements
UCF's goal is to attract the best students from the top universities in the U.S. and around the world. Accordingly, admission to the MSE graduate degree programs is done on a competitive basis, with most students admitted for entry in the fall semester. All fall semester applicants are encouraged to apply prior to the Jan. 15 priority deadline, which allows their application to be considered for internal UCF fellowship awards. Additionally, early applicants for all semesters are encouraged to complete the pre-application process offered by the College of Engineering and Computer Science. The pre-application deadline for the fall semester for international students is Dec. 1 and after this date, the online application should be submitted directly.
UCF's minimum requirements for graduate admissions are:
Completion of the online application.
All applicants must submit one official transcript showing the equivalent of a bachelor's degree earned at a regionally accredited institution.
3.0 grade point average (based on the transcript evaluation)
The Test of English as a Foreign Language or International English Language Testing System is required when an applicant is from a country where English is not the official language or when an applicant's bachelor's degree is not from an accredited U.S. institution. The minimum UCF requirement for the TOEFL is:

TOEFL score of 220 (computer test or equivalent score on the paper test)
TOEFL iBT score of 80
The minimum UCF requirement for the IELTS is a band score of 6.5.
Additionally, MSE degree programs require the following:
All applicants must provide a written statement of purpose, describing why those have chosen to apply.
All PhD applicants must submit official Graduate Record Examination scores
Admissions deadlines vary based upon the semester for which entry into the program is requested and upon the immigration status of the student. For more information on the master's degree requirements or the doctoral degree requirements, visit the UCF Graduate Catalog. 
Assistantships and Funding
Research and teaching assistantships are available for Ph.D. students. Applications are reviewed during admissions for possible graduate teaching assistantships and MSE faculty have the option to review applications in order to offer possible graduate research assistantships. For admitted new international students who have been offered a research or teaching assistantship, the letter of admission, assistantship offer, and I-20 certificate are typically sent to the student simultaneously. The stipend for a graduate teaching assistantship is currently $900 biweekly. Graduate research assistantship stipends are determined by the faculty advisor in charge of that research group.
Tuition Fee Coverage
All UCF graduate students that are fully supported as graduate research assistants or graduate teaching assistants will, by UCF policy, be considered as in-state students for tuition purposes and their funding unit will pay the academic portion of their tuition on their behalf. This policy does not include all fees, (see full fee schedule), but does include the in-state tuition (paid by the same source as assistantship stipend) and non-resident tuition (which is waived by the university). Depending on student course load, the residual fees left that the student is responsible to pay are approximately $1,800 to $2,200 per year. These can be paid by the student using stipend income, or, in some cases, may be paid by the student's advisor.
Advisor/Faculty
Students accepted into the materials science and engineering degree programs have the opportunity to work with a talented multidisciplinary faculty in well-equipped research labs. Many of the materials faculty members are also members of the Advanced Materials Processing and Analysis Center. Some faculty members are associated with other UCF research centers such as the Florida Solar Energy Center, the NanoScience and Technology Center, and the Center for Research and Education in Optics and Lasers. Some are associated with other departments such as physics, optics, electrical engineering, and mechanical and aerospace engineering. 
Research Facilities
Along with the individual faculty research labs, our materials research center has two distinct research facilities. The Advanced Microfabrication Facility and the Materials Characterization Facility are user facilities operated by AMPAC. Graduate and undergraduate students as well members of industry use these facilities to perform quality research. There are semester-long courses as well as short courses and workshops taught by faculty to teach the science and utility of various equipment and techniques.
Courses
Classroom teaching comprises a selection of about 25 graduate level courses offered in materials science and engineering. These are courses with the EMA prefix found on the UCF website. Due to the interdisciplinary nature of the field of materials science and engineering, students are typically allowed, and often encouraged, by their advisors to take courses from related disciplines such as physics, chemistry, optics, or mechanical engineering, that are appropriate to their research interests.
Additional Information
Below is a list of resources with additional information:
While licensure or certification may be available in this field of study, our program does not directly lead to such licensure or certification upon graduation. The professional preparation you receive in our program may still assist you in such pursuits; however, we are unable to confirm the specific licensure and certification requirements of each state, territory, or foreign entity in which professional credentialing may be possible.  If you intend to pursue such credentialing in your state or elsewhere, we strongly advise you to contact the applicable state credentialing authority to familiarize yourself with its specific requirements and determine if our program meets its academic criteria. Alternatively, you are welcome to contact us with questions in this regard and we will do our best to assist you in your career planning.
Additional Information
UCF Graduate Studies: Current Students — Information from the UCF College of Graduate Studies that is useful throughout your academic career at UCF
Forms & Files: Current Students — Forms useful to current students
UCF Graduate Catalog Policies — Policies from the UCF College of Graduate Studies
All MSE students are required to have a Plan of Study Form completed and approved after their first nine credit hours in their program.
MSE doctoral students are required to pass a written qualifying examination. 
"The Qualifying Examination (QE) is a quality control measure that covers basic foundational topics in MSE from a holistic view. The QE enables an evaluation of the student's ability as a conceptual problem solver exhibiting a breadth of knowledge at the graduate level. This measure should show an aptitude to connect core concepts to research. The QE should also serve as a career development tool for the students, which highlights the areas of strength and provides corrective action for areas of weakness."
The scope of the QE shall include both undergraduate and graduate MSE contents. The core of the examination shall probe students' aptitude on fundamental concepts of general STEM education including physics, chemistry, mathematics, and biology, as well as MSE fundamentals such as thermodynamics, kinetics, and processing-structure-properties relations. The QE problems shall also explore students' comprehension of various MSE applications including structure (i.e., load-bearing), electrical/electronics, optics/photonics, magnetic, biomedical, thermal, etc. While the MSE PhD QE developed by the TF shall test the aptitude of students, it also provides opportunities for students to learn the content and earn the qualification to conduct intellectually rewarding research required for PhD dissertation.
The performance of students shall be graded for written assessment/examination, assessed based on a rubric for the oral examination, and/or documented by the completion of the Personal Improvement Plan (PIP). Evaluation methods for written, oral and PIP are further described in detail in sections IV.1, IV.2, IV.3, and IV.4. Correlation between students' QE performance with  PhD productivity (e.g., number of papers, time to degree, conference presentations, skills assessment at candidacy and at defense, GPA, IP/patents, etc.) shall be documented for future improvement to the QE process and for MSE PhD program in general. 
Figure 1 presents the overall flowchart for the QE procedure. Based on the newly formulated QE, the MSE faculty and staff members must administer the following items:
Preliminary assessment at the beginning of the fall semester (Fall Assessment)
Written examination at the end of spring semester (Spring Examination)
Oral examination after the spring written examination (Oral Examination)
Assessment of Personal Improvement Plan (PIP)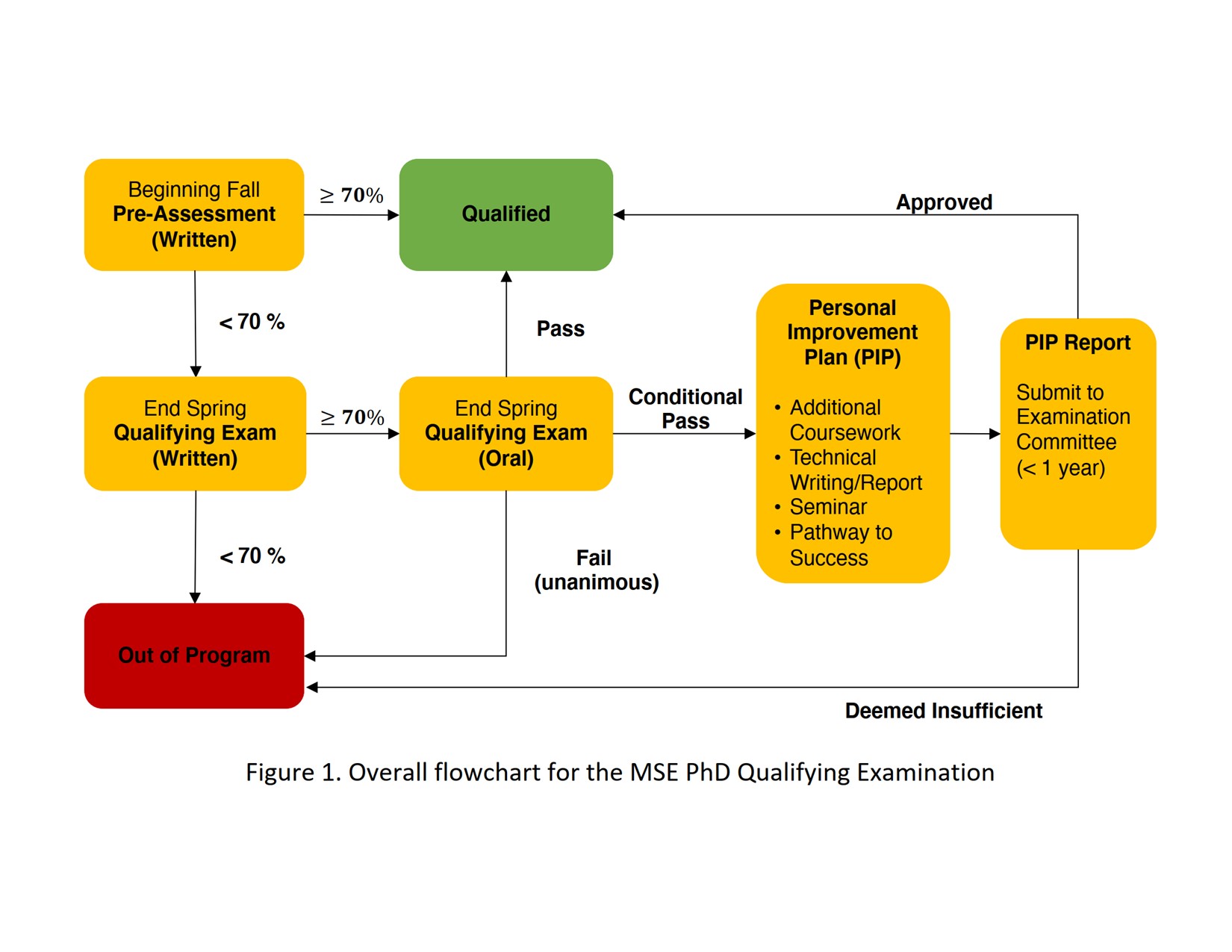 The MSE Ph.D. Qualifying Exam Pre-Assessment will be held annually on the fourth Saturday of September.  This will be an in-person exam.  The duration is 4 hours. There will be 8-10 questions.  
Please consider the following recommended readings: 
Textbooks: 
"Introduction to the Thermodynamics of Materials," Gaskell, Taylor and Francis 
PDF suggested readings: