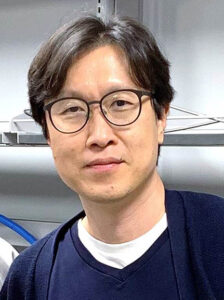 Emerging nanoscale materials
---
While working in nanoscience, Assistant Professor Yeongwoong Jung has made strides on a large scale. In the last five years, he's spent at UCF, his lab has investigated everything from electronic "tattoos" that monitor a person's vital signs to supercapacitors considered invaluable for the future of sustainable energy.
The Korean native chose to take a position here in 2016 because of the "energy, potential, and opportunities" he witnessed, particularly in nanoscale materials science and engineering. He says he's continually inspired to charge on by his colleagues and his students.
As a mentor, he has inspired great success, with his lab's most recent cohort of alumni finding jobs among Ivy League universities and companies such as Intel. His lab emphasizes consistent communication, so students at any level can understand what they are working toward.
Jung leads a group that explores the extraordinary properties of various emerging nanoscale materials and their translation to transformative technologies through interdisciplinary approaches. A primary focus is on integrating a new class of low-dimensional materials into functional structures and developing a fundamental understanding of their topography-property relationships.
His students work alongside him at the cutting edge of the field. Applications for such research are vast; including high-efficiency membranes for desalination and artificial neurons for low-power computing, in addition to supercapacitors and monitoring tattoos.
The desire to advance knowledge has always motivated Jung. He says he wants to be "recognized as … someone who can do something that nobody else can do." Already an inductee to the 2017 worldwide Marquis "Who's Who" list, he credits his progress as a scientist to his persistent ambition and curiosity.
Jung has a bachelor's degree in materials science and engineering from Seoul National University, a master's degree from the University of Illinois, Urbana-Champaign, and a doctorate from the University of Pennsylvania. He has also served as a visiting scholar for the Los Alamos National Laboratory in New Mexico; and a post-doctoral scholar at Yale University.
Dr. Yeonwoong Jung's research in nanoscience technology aims to integrate a new class of low-dimensional materials into functional structures and develop a fundamental understanding of their topography-property relationships. Read more about him here: https://t.co/J3zYeHXX4M pic.twitter.com/QHVXL1WkeI

— UCF Graduate Studies (@UCFGradStudies) October 6, 2021