Twenty-six students — including one affiliated with the Department of Materials Science and Engineering — have been named as 2021-22 recipients of the Order of Pegasus, UCF's most prestigious student award for those who display incredible academic achievement, university involvement, leadership and community service.
Chuck Didier, a biomedical science student who studies under Professor Swaminathan Rajaraman, is one of the recipients of the award. Didier graduated from UCF in 2015 with a dual undergraduate degree in biomedical sciences and biotechnology. He earned his master's degree in nanotechnology, also from UCF, and is pursuing his doctoral degree in biomedical science. His research focuses on how nanoscience-enabled microelectrode arrays can improve biomedicine, and is developing biosensors that create a safer analgesic screening.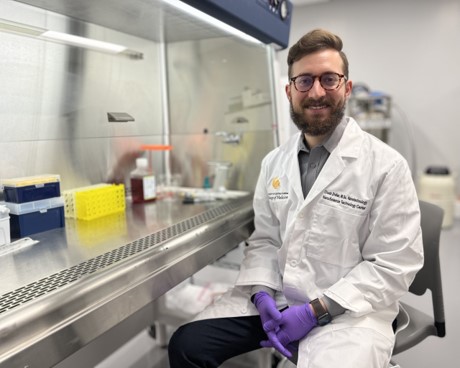 This year's honorees joined UCF already having accomplished incredible feats — as transfer students, international students, first-generation students, National Merit Scholars, Eagle Scouts and more — making an immediate impression on those who would provide their letters of recommendation for this honor. The words "driven," "dedicated," "leader," "passionate" and "humble" are frequently used to describe them, and they embody "everything we want our UCF students to be."
While at UCF, they helped secure patents, started nonprofits, coached and mentored other students, won athletics championships, taught as teaching assistants and advised university leadership. They worked to develop their own leadership skills within honor societies, the President's Leadership Council, Student Government, the President's Student Advisory Council, LEAD Scholars and a variety of other organizations and programs — including some they founded themselves. They also conducted, presented and published research on a wide range of subjects, including contributing toward advances in the research of Type 1 diabetes; equity in education and healthcare; the impacts of tourism; brain, colon and other cancers; mental health and suicide prevention; and solving the opioid crisis.
They are among our brightest students — with collective GPA of 3.82 — and they are also some of our most compassionate. In addition to their roles and impact on our campuses, they have volunteered extensively within our community and beyond at food banks, shelters, clinics, schools, fire stations and other service organizations.
They graduate UCF with plans for continued impact — as educators, researchers, health care providers, foreign policy analysts and, above all, humanitarians with the desire to make their communities and our world better.
These students and their families will be honored during the Order of Pegasus induction ceremony, taking place during the Student Honors Convocation on April 6 in the Pegasus Ballroom of the UCF Student Union. Inductees receive commemorative medals and scholarships from Student Government. In addition, all honorees, past and present, are recognized on the Order of Pegasus wall in the Student Union.