"Current products on the market for diabetic foot ulcers are not meeting the clinical need," Chemical & Biological Engineering Associate Professor Melissa Krebs said.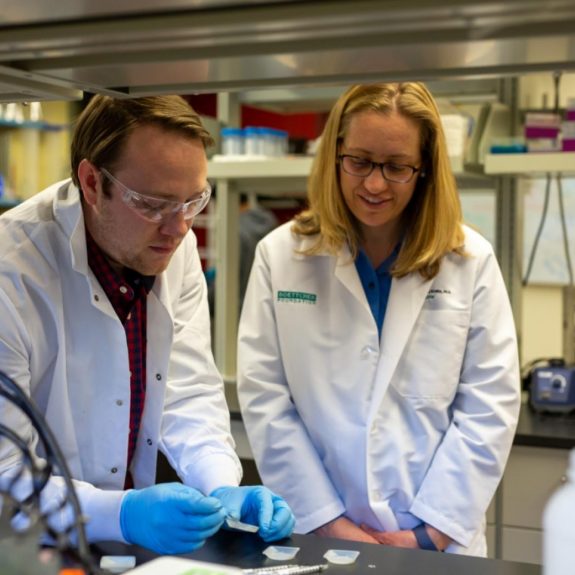 Postdoctoral researcher Matthew Osmond works with the hydrogel bandage material in the lab as Chemical & Biological Engineering Associate Professor Melissa Krebs observes.
Hydrogel bandages designed to slowly release medication that reduces inflammation can improve the healing time of diabetic wounds in mice, new scientific research has shown.
The findings, published in the journal Acta Biomaterialia, could have huge implications for the treatment of diabetes worldwide, which cost $327 billion in 2017 in the U.S. alone, according to the American Diabetes Association.
"Complications of diabetes, including impaired wound healing, represent a significant and expensive medical problem. An ulcer of the lower extremity precedes 84 percent of all diabetic lower extremity amputations and is the primary cause for hospitalization among diabetics," said Melissa Krebs, associate professor of chemical and biological engineering at Colorado School of Mines and a co-author on the paper. "Current products on the market for diabetic foot ulcers are not meeting the clinical need."
Hydrogels, which are three-dimensional networks of hydrophilic polymer chains that can hold large amounts of water, have long been considered promising materials as wound dressing materials. They can help maintain a moist environment around the wound, allow oxygen permeation and be readily loaded with therapeutic molecules to promote healing and protect from bacterial infections.
However, due to the high water content of these materials, drugs loaded into hydrogels are often released very rapidly, instead of gradually over a long period of time.
Krebs' research group, though, showed that the polymerization of zwitterionic materials under freezing temperatures to form gels, or cryogels, remarkably improves the drug release profiles, with high sustained release.
Combining these materials with therapeutic nanoparticles that her collaborators at Children's Hospital Colorado and the University of Central Florida developed to reduce oxidative stress and inflammation showed much promise as well. The therapeutic rare earth nanoparticles act as sponges, soaking up excess reactive oxygen species that contribute to oxidative stress in the wounds. The particles are then conjugated with microRNA that targets and turns off inflammatory gene expression pathways in cells.
"We have shown that our nanoparticles synergistically target oxidative stress and inflammation and can improve healing, but the use of these novel hydrogels to topically deliver our molecules to where they are needed and act as a dressing is a dramatic translational improvement in the development of this novel therapeutic," said Dr. Kenneth Liechty, professor of surgery and director of pediatric surgery basic science and translational research at Children's Hospital Colorado and the University of Colorado Anschutz Medical Campus.
Also collaborating on the research was Sudipta Seal, professor and chair of materials science and engineering at the University of Central Florida. "These are unique regenerative inorganic nanoparticles for combatting reactive oxygen species–mediated disease," Seal said.
The researchers already have several patent applications and interest from companies in commercialization, Krebs said.
"Our current research into the use of zwitterionic cryogels as hydrogel bandage materials with sustained drug delivery will contribute greatly to the design of novel technologies capable of reducing inflammation and oxidative stress in diabetic wounds to result in improved wound healing, an area where new technologies are greatly needed," Krebs said.
To read the full article, "Injectable, self-healable zwitterionic cryogels with sustained microRNA – cerium oxide nanoparticle release promote accelerated wound healing," go to https://doi.org/10.1016/j.actbio.2019.11.014.