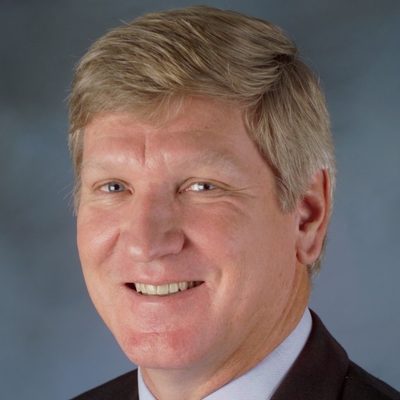 Professor, Director of Florida Solar Energy Center
Email: fenton@fsec.ucf.edu
Phone: 321-638-1002
Office: FS 1, Room 208A
James M. Fenton is the Director of the UCF Florida Solar Energy Center, where he leads a staff of 90 in the research and development of energy technologies that enhance Florida's and the nation's economy and environment and educate the public, students and practitioners on the results of the research.  FSEC leads national programs funded by the U.S. Departments' of Energy and Transportation in:


"Building America" energy efficient homes,
Photovoltaic manufacturing
Hot-humid PV testing of large-scale PV to show bankability,
Solar-ready vets and train-the-trainers education for solar installations
Programs to decease the soft-costs of PV installation
Electric vehicle transportation
"Clean Cities," or alternative fuel transportation.
FSEC, created in 1975 by the Florida Legislature to serve as the state's energy research institute, is the nation's largest and most active state-supported renewable energy and energy efficiency research institute. In addition to his duties as FSEC Director, Fenton also serves as a Professor in the Department of Materials Science and Engineering.
Prior to joining FSEC, he spent 20 years as a chemical engineering professor at the University of Connecticut. Fenton's research activities in fuel cells, pollution prevention and sustainable energy are helping FSEC expand its nationally acclaimed research and education programs in hydrogen, flow batteries, alternative fuels, solar energy and buildings energy efficiency. He received his Ph.D. in chemical engineering from the University of Illinois in 1984 and his B.S. from UCLA in 1979.  He is the author of over 200 publications.
He is Secretary of The Electrochemical Society, an Electrochemical Society Fellow and received the Research Award of the Electrochemical Society's Energy Technology Division in May 2014 for his work on Automobile Proton Exchange Membrane Fuel Cells.  He served on Florida Governor's Action on Energy and Climate Change Committee from 2007 to 2008.
Education:
Ph.D. in Chemical Engineering, University of Illinois, Urbana-Champaign, 1984
M.S. in Chemical Engineering, University of Illinois, Urbana-Champaign, 1982
B.S. in Chemical Engineering, University of California, Los Angeles, 1979