This year's five Reach for the Stars honorees have two common traits – outside-the-box thinking and a relentless passion to make the world a better place. From creating resilient communities that can withstand natural disasters to educating the public through fiction that explains real science, this year's honorees are using research to help create a brighter future.
The Reach for the Stars award recognizes early-career professionals with highly successful research and creative activity with a national or international impact. It is second only to the Pegasus Professor Award, UCF's highest faculty honor. Together this year's honorees have secured about $10 million in funded sponsored research from a variety of organizations and have contributed more than 300 publications.
Meet the 2022 Reach for the Stars Honoree from the Department of Materials Science and Engineering: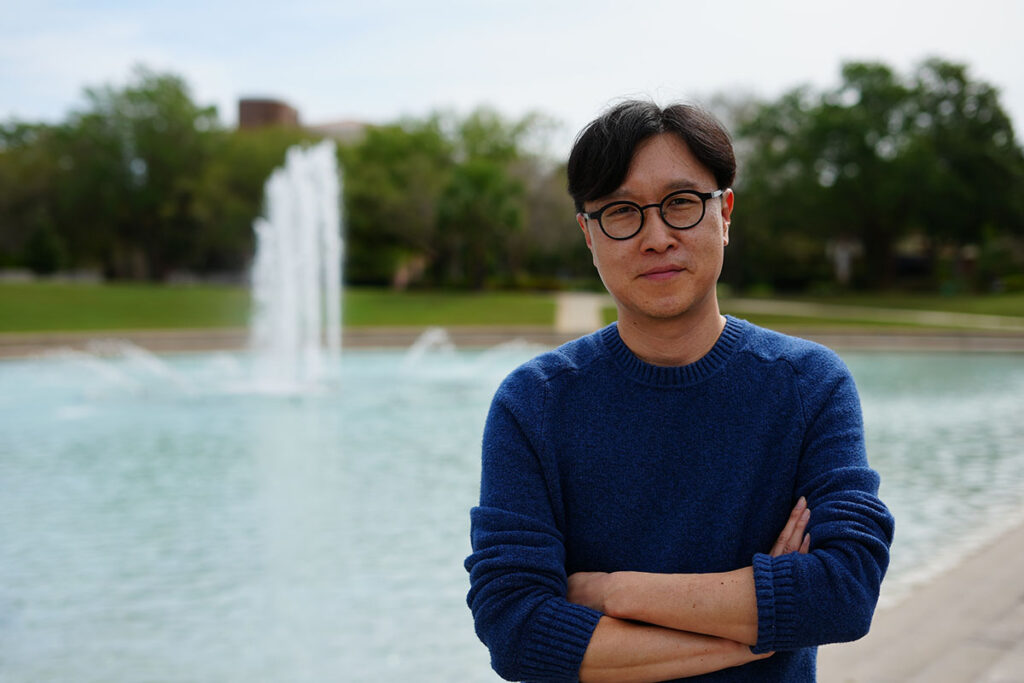 Creating the technology of tomorrow drives Eric Jung's research into nanomaterials and the fascinating properties they possess.
The 2D materials he's researching can be stretched 10 times more than silicon, the building block of current electronics, while still preserving excellent electrical abilities.
This makes them perfect to serve as semiconductors for the next generation of laptops or cell phones that that can be twisted, folded, and stretched in all dimensions.
"Thinking crazy, that's the beauty of my research," Jung says. "When the size of materials becomes extremely small — down to nanoscale, that is smaller than 1/100,000 times of human hair thickness — they start to exhibit unusually exciting and superior properties that cannot be obtained in any traditional materials."
These can include interesting electrical, optical, and mechanical properties, and Jung sees the development of nanomaterials as another major advancement in human history, comparable to the stone, iron and silicon ages.
"I strive to unveil these properties, understand their origin, and translate them into practical applications in real-world technologies," Jung says. "I got excited about this nanomaterial research as a graduate student, and I've never looked back."
In addition to his scholarly research activity, he says he is particularly proud of the accomplishments of his current and past research group members. His graduate students have received more than 30 total awards in recognition of their excellence in research and have gained employment with major tech companies, such as Apple and Intel, and hired at prestigious institutions, such as Yale University.
"Seeing how they are growing professionally is always quite rewarding and inspiring for me, and it continuously helps me keep my momentum in doing what I'm doing," Jung says.
Written by Robert Wells and Zenaida Kotala for UCF Today.